With an industry-leading safety culture, the Harbour Air team is proud to offer a new, innovative design for the Individual Flotation Device (IFD). The IFD not only meets newly introduced regulations requiring the device to be worn by passengers, but also exceeds all Transport Canada's guidelines.
Refusing to accept an off-the-shelf solution, Harbour Air Aerospace Services lead the production and certification of the new IFD, proactively working with Transport Canada to create an IFD that seamlessly attaches to passengers without impacting passenger comfort or cabin interiors of the aircraft.
The new system can easily be implemented in any aircraft and is currently being installed across Harbour Air Seaplanes' entire fleet (North America's largest seaplane airline).
How it Works:
Click to read user manual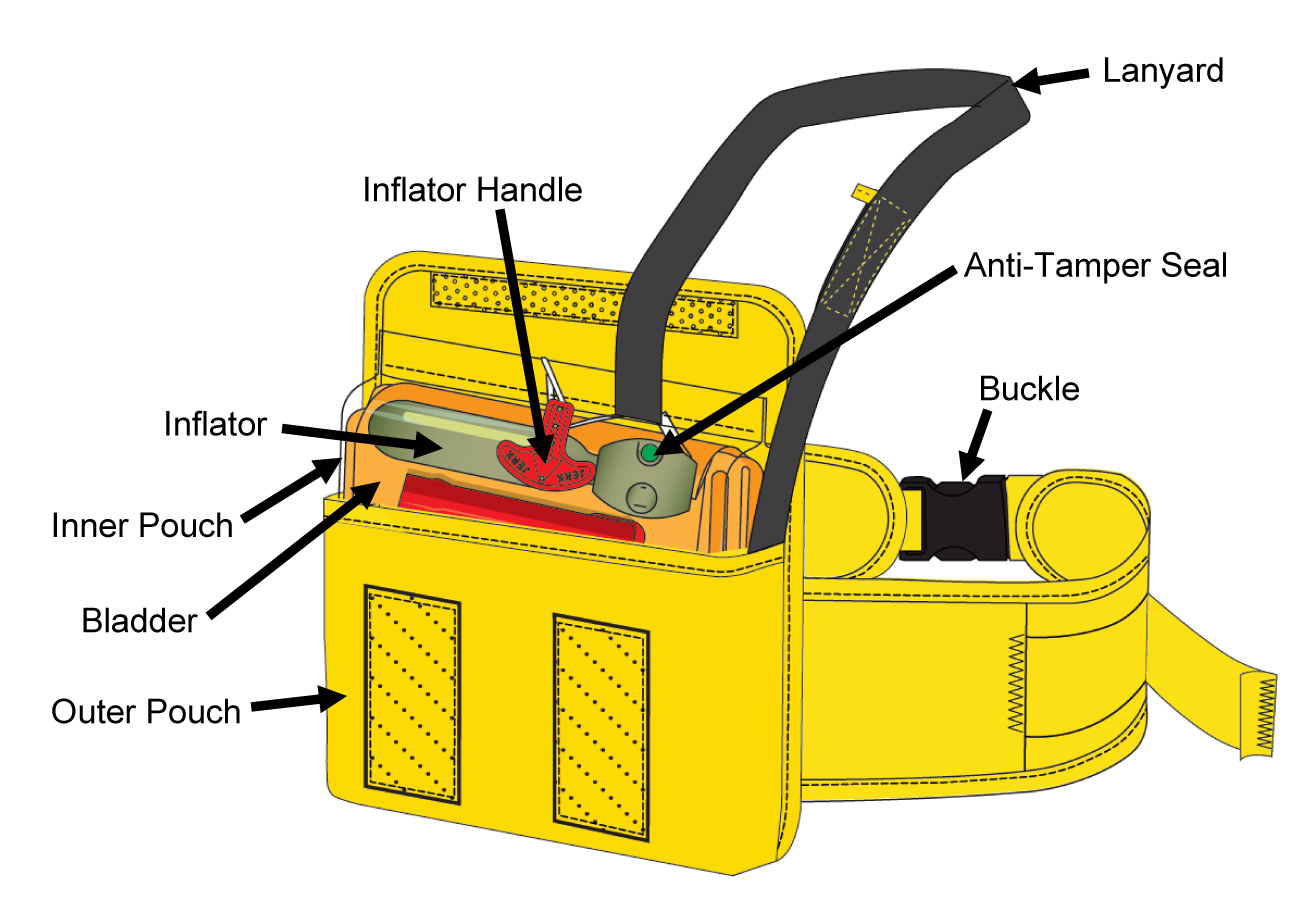 IFD Quick Facts
Complete new belt pack flotation device. Simple design for ease of use by all passengers.
Certified under TSO C72C Individual Flotation Devices
5-year inspection requirement (where the unit is returned to Harbour Air Aerospace Services for service)
Certified for all passengers weighing 35 lbs and up (no age restrictions)
Outer pouch can be easily detached from the lanyard and laundered. Replacement pouches are available.
The IFD is in a sealed clear plastic liner enabling easy access for inspections.
Innovative system includes a flotation device tethered to a waist pouch. The break-away tether ensures that in the event of inflation inside the cabin, passengers can easily separate from the device if needed.
Flotation device is a U-shaped design is designed with arm holds for use by any passenger.
Belt extenders are available.
Pricing
$260 per IFD unit
$30 for the extender
$150 for a spare pouch
Buy in bulk and save! Receive 10% off on the purchase of 20+ IFD units (IFD Units only)
List of Parts
MD3080 – Individual Flotation Device (IFD)
MA3077 – Waist Belt Inflatable IFD Belt Extender for MA3078
MA3078 – TSO-C72C WAIST BELT INFLATABLE IFD OUTER POUCH
IFD Inquiries
Interested in learning more? Please call 604-233-3521 or contact our purchasing department via the button below.
Development of the world's first fully electric commercial aircraft
In early 2019, Harbour Air announced a partnership with Washington based magniX, the company powering the electric aviation revolution, with a commitment to build the world's first all-electric commercial airline. We are incredibly proud, with our partners at magniX, to have successfully build and flown the world's first fully electric commercial aircraft – which took flight on December 10, 2019.
With our combined expertise in aviation, maintenance and electric propulsion systems, our teams began and completed the process of retrofitting a DHC-2 de Havilland Beaver and converting its engine to a 750-horsepower all-electric motor. In less than 10 months, the team created the blueprint, built the ePlane and successfully flew it!
The project included:
Stripping the aircraft down to the frame
Removing all fuel system components
Battery mounts fabricated and installed
Cockpit reconfigured and modified
Aircraft installed on floats
Motor mount developed and installed
Motor arrived and installed
Inverters arrived and installed
Inverter cooling system developed and installed
Inverters and motor calibrated
Software development, completion, installation & testing
Install and test battery strings
Install and test BMU (Battery Management Unit)
Aircraft painted and decals applied
magniX test equipment installed
28V system install completed and checked
Worked through regulatory requirements to achieve first test flight
Successful first flight: December 10, 2019
What's next? With the successful first flight complete, the aircraft is currently undergoing the certification and approval process with the FAA and Transport Canada. Over the next one to two years, we will continue testing and alterations on the path to certify the aircraft for passenger flight.